The majority of the group got an early start and arrived at the campground early afternoon. They set up camp under the pavilion as the rest of the stragglers (myself included) showed up through out the evening. Thursday night we discussed our plans for the morning and went to bed with what we thought was a solid plan. And it rained.
The next morning those of us that didn't have passes went to the office at 8:00. After a little maintenance on Donny's jeep we got on the trail. We spent most of the morning getting lost on gravel, but the scenery was nice.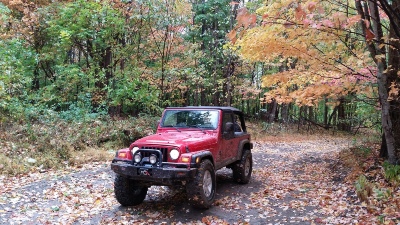 We eventually made it to trail 13. That was a fun trail with a cave along it. Greg went spelunking.
From here the details are a little fuzzy
. We ran another trail, ended up back on gravel, and went to 15 then 38. I have a pretty long video from 15 I'll post later. Donny took off up Rattle Rock and the rest of the group was going to finish 38 and meet him at the top. We came around a corner to find a JKUR broadside in the trail. He had decided to turn around instead of backing down and got in a tippy situation. Miller and I helped get him down then decided it was getting late and we'd just head back.
Saturday we started on 22 and ran the full length this time (no 21). There were a few little obstacles on 22, and Orlando spit out the rear driveshaft. he and tim headed to town on front wheel drive and the rest of the group explored the trail 42/43/44 area. We were headed down 41 and Miller tried an "extremely difficult " hill climb (41b I think) and a rock got the right rear valve stem. Taylor had a new stem but no tools to seat it, so the stem got destroyed in the process. We got the jeep to a point we could put the spare on and Miller continued, then looped back in line with the rest of us.
After 41 I turned left and headed back to camp to pack up. The rest of the group ran a few more trails before calling it a day.