Trail Day 1:
Harvard's Trail Rating: 7/10
Harvard's View Rating: 9/10
First Trail was Holy Cross City Jeep Trail in Minturn, CO. 3.8 miles up and 3.8 miles down. +2,350' in elevation with a final elevation of 11,652'.
The CJ build had ~100 total miles on it at this point and about 5 actual trail miles at Gulches ORV.
Colorado wheeling is a different animal than headed 20 minutes up the road to Gulches....
We got to the trail head around 10AM after stopping in the town of Minturn for some trail snacks. Very limited choices in town. From the trailer parking area it's about an 8 mile ride to the trail head Got stopped for a downed tree cleanup for 10-15 minutes on the way up. Jeff joined us on this trail and the first 1.5 miles it was smooth sailing. We had a group of buggys right behind us at the start and kept good ground up until "The Knotch". There were a few ledges before the first "obstacle" and Jeff ended up bending his tie-rod either on the knotch or one of the previous ones. I had already crested the obstacle and parked waiting for him, still seeing orange in the rear view....when I get parked an orange Ultra4 buggy comes past... "Hey man what happened to the Rubicon that was behind me"? Oh, he pulled over to let us pass....cool.
15 minutes later, No Jeff. We didn't realize it at the time but he had went to the exit to head to town and get a new TRE. No cell service, no radios, shit!
So, we rock on by ourselves. Me, the wife, and The Todd.
We ease up Steep Rock and catch the buggy crew at French Creek Crossing. Watched them make it look really difficult for about 10 minutes, then crawl up the creek and follow them to the next set of obstacles. I chose the right side of "Old Tippy Tree" to get the full effect going up. Pretty cool off camber spot with nothing but air and opportunity for a bad day below you. CJ made short work of it.
We reached Holy Cross City at lunch time and explored the area a bit. This SC guy was not ready for hiking in that altitude. HOLY OUT OF BREATH! We had a sandwich, expored, cracked a celebratory mountain candy can and headed back down the mountain.
After the Tippy Tree decent my confidence in the CJ was there. Finally. Brakes held the ledge and it was working flawlessly.
We eased down the rest of the trail, cruised back to the trailer and took off towards Moab, UT.
Overall trail review. It's a very bumpy, fairly steep, 4 mile trail ride. There are 5 good obstacles up and down and are staggered out good enough to keep it interesting. Exploring and the view up top are worth the time.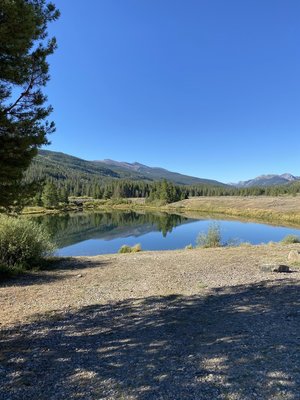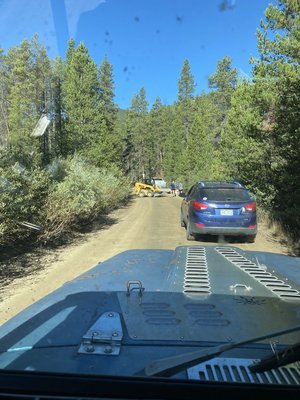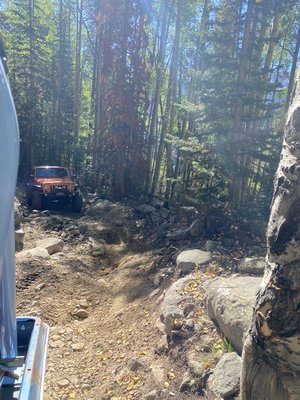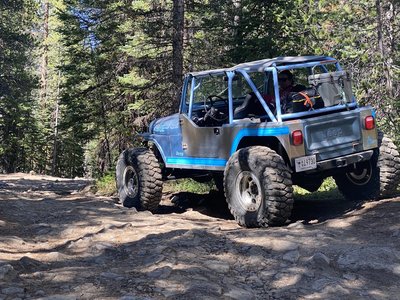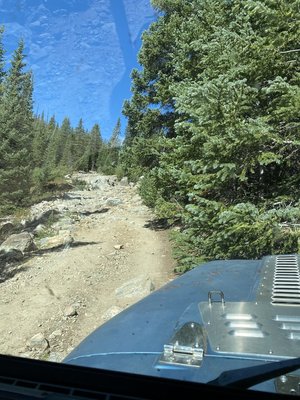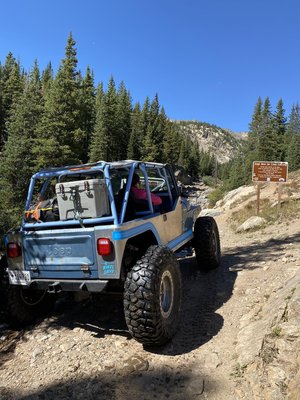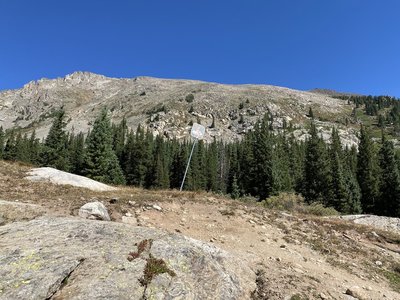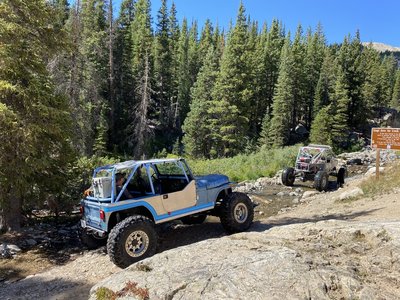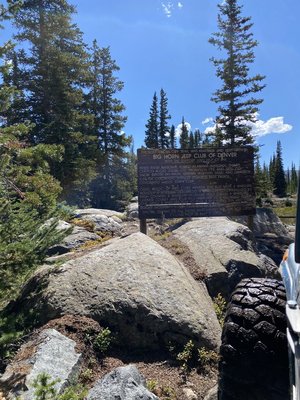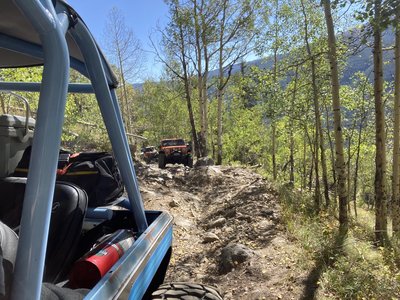 Last edited: