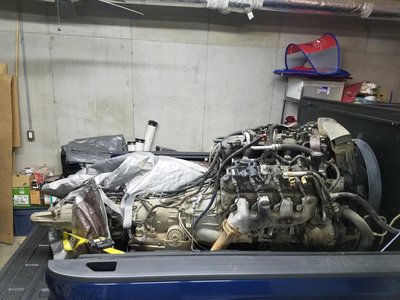 I decided long ago that if anything major happened to the 4.0/42RLE in the LJ that it would not be repaired or replaced with the same. I knew I wanted an aluminum block LS for the weight savings, and I wanted a gen III motor. I've been keeping my eyes open for a good deal to have stashed away for the future, and this showed up.
It's an LM4 out of a 2004 Buick Rainier with around 140,000 miles. I got everything, MAF to O2 sensors, Accessories to transfer case, throttle pedal, TAC module, harness, ecu, for $1,000.
It will probably be a couple of years before I actually do this, but I figured if I waited until I actually needed it i would end up paying too much for the drivetrain I wanted or compromising and going with an iron block. This means a major hurdle is taken care of, and I can gather the other parts needed if I see them used or on sale.
I plan to use the gm engine and trans, adapted to the 231 jeep case (unless I win the lottery and get an atlas). I'll probably use Novak for most of the conversion parts.
I've done some preliminary research and have an idea of the conversion. I'll update this as I have time. I'll take any input and advice also...
Jeep build thread here:
https://www.offroadsc.com/threads/joined-the-redtj-club-kinda.2944/
Last edited: