I've been contemplating a cage for several years now. I've thought about doing one of the add on kits, a full cage kit, or a bolt in. With the Moab trip coming up, and having spent so much "project time" on the LS swap, I decided to go bolt in.
There are 3 main companies I found to choose from. Genright, Poison Spyder, and UCF. Genright was out of the question due to price and being on the wrong side of the country. Poison spyder was the cheapest option, but also on the wrong side of the country, and I don't like the rear portion of the cage.
On the UCF I didn't like the design over the driver with the single tube, but I gave Matt a call. He was willing to customize it to give me two bars from main hoop to windshield bar to allow mounting of radios between. We discussed what exactly my jeep was, all the options, and placed my order.
On March 6th, my wife and I took off at 4:00 am for the 700 mile round trip to save $400-$500 on shipping. It was a long day but we enjoyed it. We got home around 6:00 pm.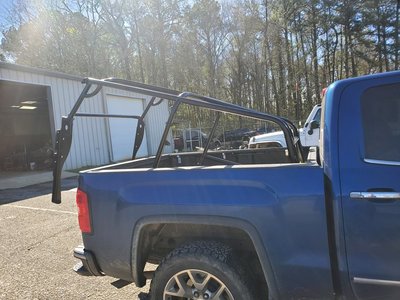 Saturday we started pulling out the stock cage. Other than the seam sealer around the main hoop floor plates and the security torx bolts that hold the main hoop to the tub sides, that went fairly smoothly.