Tony Pellegrino and crew, from GenRight Off Road, will be on the road for the next several weeks visiting various events all across the US.
We're calling this the Pedal to the Metal Tour and you can get involved.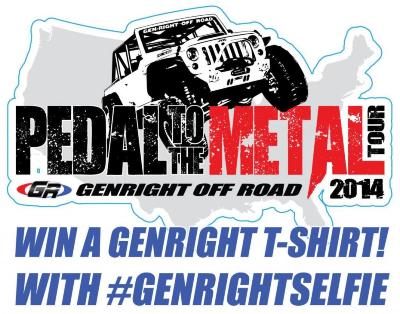 Win a GenRight T-Shirt by catching the GenRight team or vehicles while they are out on the road for the Pedal to the Metal Tour with a #GenRightSelfie!
Take a picture of yourself with any of the GenRight team or with a GenRight vehicle, then upload it to your facebook and tag #GENRIGHTSELFIE and win a free T-shirt. Catch them on the road, catch them eating lunch, catch them on the trail or in the show booth and get your free T-shirt.
So the first stop on this tour is the Jeep Jamboree USA event in Parker, AZ. That's 300 miles and 4.5 hours from our facility in Simi Valley, CA.
Tony and Jami arrived last night and they should be on the trails by now!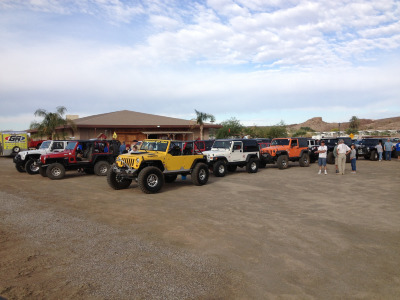 Saturday evening they'll leave Parker, AZ and head out for Moab, UT and the 2014 Easter Jeep Safari. That's roughly 570 and 9 hours on the road.
After Easter Jeep Safari, they'll head to Daytona Beach, FL and Jeep Beach. That's over 2100 miles and 32 hours on the road!
After Jeep Beach, Tony will head to an undisclosed location (to be announced at a later date) out west to continue the tour.
We may give him a break at that point to go home, answer emails, restock the RV, and get ready for the next leg of The Tour!
genRight will be attending major events throughout the country this summer and fall, including but not limited to, as many Jeep Jamborees as we can make it to, High Desert Round Up, Silver State Jamboree, All 4 Fun, Topless for Tatas, Chili Challenge, etc. Check our events page for more details:
http://www.genright.com/Runs-Events.aspx#.U0gXFfldWlY