I had a bunch of random parts laying around and I needed to do something with them. So I traded some wraith axles and drivetrain for an scx roller I had built earlier this year that needed some love. My goal with this build was to keep it cheap and fun. A few guys in our area have class 1 trucks now so I wanted to get in on the action.
I'm currently running an SCX10 chassis with NB TJ body, hammer tcase, axial axles, and 1.55 mud terrains. Not sure about electronics right now, going to go cheap brushed with this one I know, just not sure what yet.
I had to shorten the rear links an almost stupid amount to stick to the 10.5" wheelbase of the body. In class 1 you must match the wheelbase of the body within a 1/2" and these TJ bodies have a 10" wheelbase stock.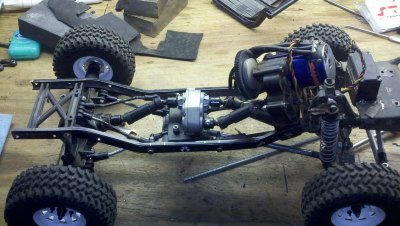 Here is where I am at right now. The body is mostly mounted, I finished the new rock rails, I'm working on a new bumper next because for Class 1 the bumper has to be at least the same width as the windshield.