is AMAZING!!! But that's no surprise to most people here. They've always come through in a pinch for me. I've called with measurements on a Tuesday and picked up a custom shaft on the way to Harlan on Thursday, and they did it again this week.
Sunday, the upper joint (double cardan) started chirping. Since I knew my world was going to get really busy on Monday, I pulled the shaft Sunday night. While trying to grease the center ball, I screwed up the fitting because I didn't have the right tool and I tried to make something work.
On the way to the hospital on Monday, I called and talked to Steven (Stephen?). He said if I could get it there Tuesday he'd do his best to get it back to me by Friday. Luckily Taylor was able to pick it up from the MCJ meeting and get to Carolina Driveline first thing Tuesday morning. The fixed shaft showed up on my front porch Thursday afternoon!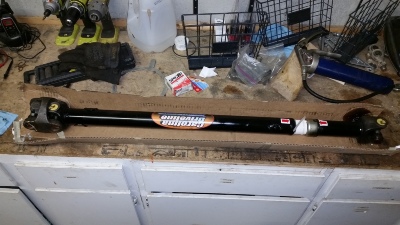 They even touched it up from the rock rash.
The only complaint I have is they have switched to shredded paper packaging, on greasy things, and it sticks to everything...
I really like how involved the staff is. They are one of the few companies/vendors nearby that participate in events, see and be seen.
Last edited: